Elite Screens Portable Rear Projector Screen
Elite's Yard Master Series of outdoor projection screens is ideal for picnics, barbecues or virtually any other outdoor projector presentation imaginable. It is an affordable solution to having a professionally formatted outdoor projection screen that sets up and takes down quickly. Its durable Dynawhite projection material is made for the rigors of outdoor use while maintaining color clarity with a wide viewing angle. The Yardmaster's easily assembled framework ensures many years of good use and is designed to be the ultimate low-cost solution to a larger than life picture.
The Yard Master2 is a folding-frame outdoor projection screen. Its light-weight aluminum frame allows it to be set up in minutes. Simply, unfold the frame; attach the material and legs, then project. The Yard Master2 is the perfect companion for outdoor presentations with front or rear projection materials available.
Screen Material
WraithVeil tensioned rear projection material
Black masking borders enhance picture contrast
Corner pull-tabs make installation easier

Snap-button attachments on material
Design and Assembly
Light-weight aluminum square tube construction

Single-piece frame system unfolds effortlessly

Detachable T-legs included

Assembles in minutes with no tools required

Stakes, rope, and support rings included for additional support and stability

Soft-padded carrying bag stores entire product for portability
Dimensions :
Model Number : OMS120HR2
Screen Diag. & Aspect Ratio : 120" (16:9)
View Width (A) : 2656.8 mm
Left/Right Border (A1) : 76.2 mm
Frame Length (A2) : 2788.9 mm
View Height (B) : 1491.0 mm
Frame Height (B1) : 2232.7 mm
Top/Bottom Border (B2) : 76.2 mm
Bottom of Frame to Ground (B3) : 589.3 mm
Rope Length (B4) : 2280.9 mm
Carrying Bag Length (A3) : 980.4 mm
Carrying Bag Height (B5) : 180.3 mm
Carrying Bag Width (C) : 238.8 mm
Frame/Tube Width : 33.0 mm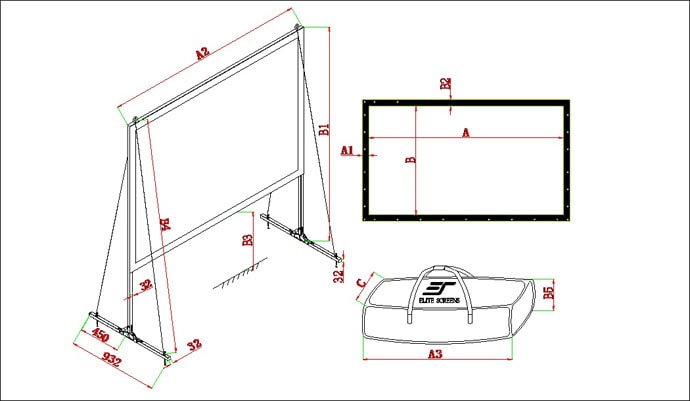 Last updated: Thursday, 30 November 2023