SG Audio Visual FF Series 3m wide (135") Portable Fast-Fold Projector Screen with Front Projection Surface (16:10)
SUITABILITY
This fast-fold portable front projection screen is perfect for indoor or outdoor use for groups of around 30 people. The 16:10 wide format is designed to to be used for a combination of presentations and video.
FEATURES
The FF series are our most advanced fast-fold screen. The FF series range features commercial grade flexible screen surfaces with press-studs, a quality height-adjustable frame with fly-points and an improved road case.
Commercial Grade Flexible Screen Surface
The flexible surface is designed to be folded and stretched. This ensures a taught, flat projection screen surface for a better viewing experience.
This screen comes with a white front projection surface with a black backing.
Quality Frame
The FF series frame is based upon the latest click-frame system for a strong and durable frame which is easily assembled. The 3.2cm tube alloy frame also comes with sturdy,removable legs. If legs are not required the screen may be suspended using ring-bolts attached to fly-points in the frame.
Road Case
The FF Series is designed to be portable and comes with a quality road case.
SPECIFICATIONS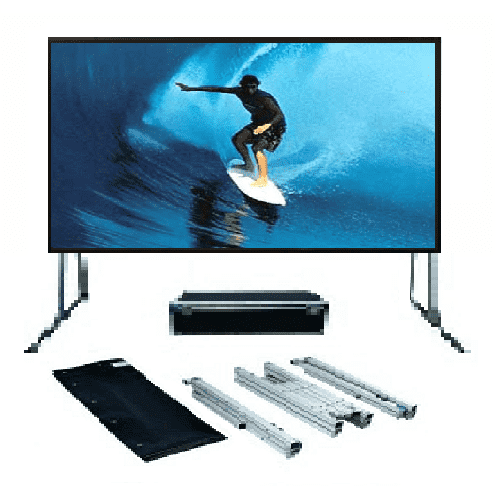 Screen Size
Screen surface (viewable area including 5cm border) area is 300cms by 188cms.
The Screen weighs approximately 37kgs.
135" size refers to the diagonal of the screen surface expressed in inches.
Screen Surface
The screen surface included ia a Front Projection flexible white surface with black backing.
The Screen surface is attached to the screen with press-studs.
Frame
The frame is a metal alloy with a square profile and measures 3.2cms by 3.2cms. Fly-points are incorporated into the frame.
The legs are a square profile metal alloy and height adjustable.
The road case is made from aluminium alloy.
WARRANTY AND PARTS
1 year warranty against defects in materials & workmanship. An additional 2 year warranty is available separately.
Spare parts are maintained in our Australian warehouse