Now with a Bonus Heavy Duty Carry Bag

SG Audio Visual AP Series 1.8m wide Advanced Portable Screen (16:9) - packs down to around 1.1m long.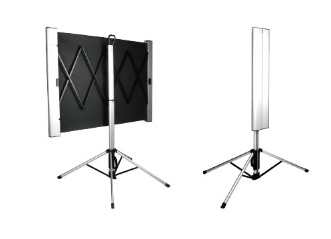 What Makes this Screen Different
Horizontal Assembly
The advanced portable screen pulls out horizontally and this means that the screen packs down to just over the width or the screen (1.12m) making this screen highly portable and around half the length of tripod screens.
Stability
The advanced portable screen has 4 legs making it significantly more stable than tripod screens.
Scissor Action Support
The Scissor action support provides a flatter screen surface with better tensioning.
Screen Surface
The AP series screen features a high-gain PET surface with a very small 2cm border. This surface will provide a brighter image than tripods with a standard surface.
Suitability
This screen is only 1.12m long when packed and perfect for mobile presentations whether that be PC-based presentations or general purpose video use in a small to medium room. Ideal for general office or home use with a multi-purpose or wide format data projector.
Specification
Screen Size
Screen surface (viewable area) area is 180cms by 102cms. The housing measures 21cms by 17cms and is only 1.12m long when packed.The Screen weighs 12kgs. 81" size refers to the diagonal of the screen surface expressed in inches.
Screen Surface
The screen surface is Fabric / PET and matt White and has a lightproof black back. The material is flame-retardant and mildew-resistant. The screen has a gain factor of 1.2.
Housing
The screen features a heavy duty, scratch-resistant metal case.The screen can be raised or lowered on the stand.
Warranty and Spare Parts
1 year warranty against defects in materials & workmanship. An optional 3 year warranty is available separately. Spare parts are maintained in our Australian warehouse.