SG Audio Visual PM Series 2.2m wide (122") Manual Wall-Mount Pull-Down Projector screen (square)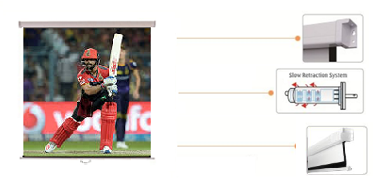 SUITABILITY
This screen is perfect for general / business use in a medium sized room (say 3m wide by 4-5m long)in conjunction with any data projector. Suitable for use in classroom or medium sized groups. The square format has no top border and the length is adjustable meaning it is a universal screen. Use this screen for presentations or a combination of presentations and video.
FEATURES
The PM series features high end fabric and a slow retraction mechanism. They also feature a square case for easy mounting to wall of ceiling.
High End Fiberglass Fabric
The PM series screens are designed for Australia and feature thicker, stretch-resistant fiberglass fabric.
Slow Retraction Mechanism
Every PM Series screen comes with a built-in slow retraction mechanism to ensure that the screen surface is protected by slowly and safely rolling it up into the housing.
Square Housing
The small, square profile white housing means that the screen may be unobtrusively mounted against a wall or ceiling. The screens have built-in L shaped brackets at each end of the housing.
SPECIFICATIONS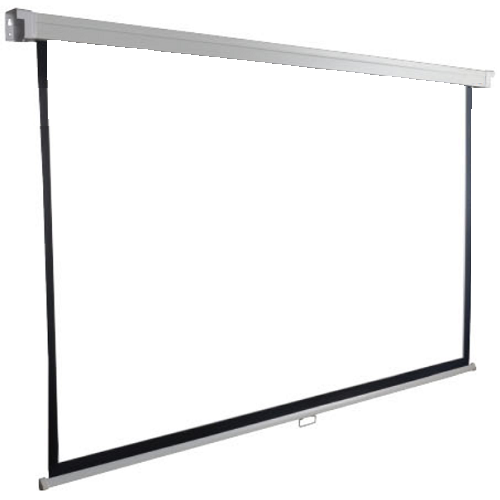 Screen Size
Screen surface (viewable area including 2.5cm border) area is 220cms by 220cms.
The housing is slim-line white and measures 7cms by 9.5cms.
Overall width of screen including housing with motor is 232cms.
The Screen weighs 9.5kgs.
122" size refers to the diagonal of the screen surface expressed in inches.
Screen Surface
The screen surface is matte White high end fabric and has a lightproof black back. The screen has a gain factor of 1.2 and has a 2.5cm black border.
Housing
The screen housing is a heavy duty metal case in off-white and designed to blend into most rooms.
The housing is rectangular and features built-in L-shaped brackets for wall or ceiling mounting.
INSTALLATION NOTES
Suitable for wall and ceiling installation.
Easy to Install - Normally only 4 screws required.
The built-in L-shaped brackets are used for both direct ceiling and direct wall mounting. Two screws at each end are used to secure the screen to the wall or ceiling.
Optional wall mounts may be purchased to position the screen out from the wall in front of doors, windows, or wall-mounted TV.
WARRANTY AND PARTS
1 year warranty against defects in materials & workmanship. An additional 2 year warranty is available separately.
Spare parts are maintained in our Australian warehouse